We are currently carrying out professional 121 counselling sessions face to face or via video call.
To enquire if you are eligible, please call: 0800 830 3646
Self Isolation doesn't mean Social Isolation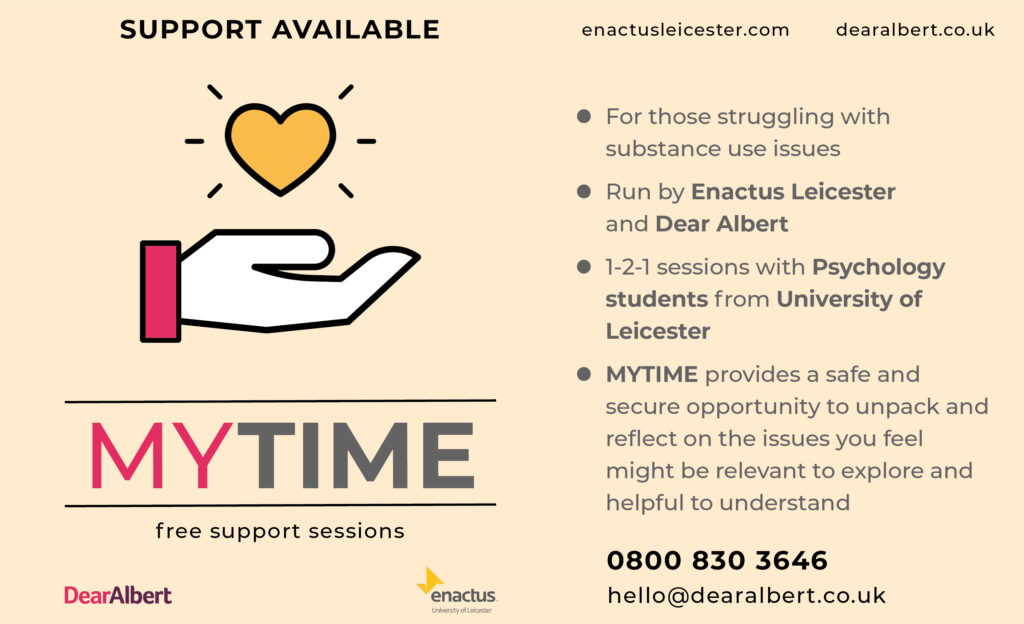 Delivered by Enactus Leicester and Dear Albert, MYTIME is a collaborative programme for those who have, or who are, struggling with substance use issues and who may benefit from structured 1-2-1 sessions with Psychology students from University of Leicester. 
Confidential, progressing at a pace that's suitable for you and running in your own space in your own time; MYTIME provides a safe and secure opportunity to unpack and reflect on the issues you feel might be relevant to explore and helpful to understand. Potentially providing fresh insights into your current situations, MYTIME is being offered on the Zoom platform (we can provide IT support if required). Please feel free to find out more by calling 0800 830 3646 and see if a bit of MYTIME may be able to help you to continue moving away from active addiction and towards a more meaning life.